About Open Enrollment
Open Enrollment is when employees can enroll in a Flexible Spending Account and the time when participating employees can re-enroll in their plans if they want them to continue into the next plan year.
Otherwise, the only other option for making changes to an FSA plan, is when an employee has experienced a qualifying change in status event.
Why should I consider signing up for a Flexible Spending Account?
You can save money with an FSA since it allows you to pay for eligible expenses on a pretax basis from your paycheck. Read more about the benefits of the Health Care FSA and Dependent Care FSA plans on the Flexible Spending Accounts webpage.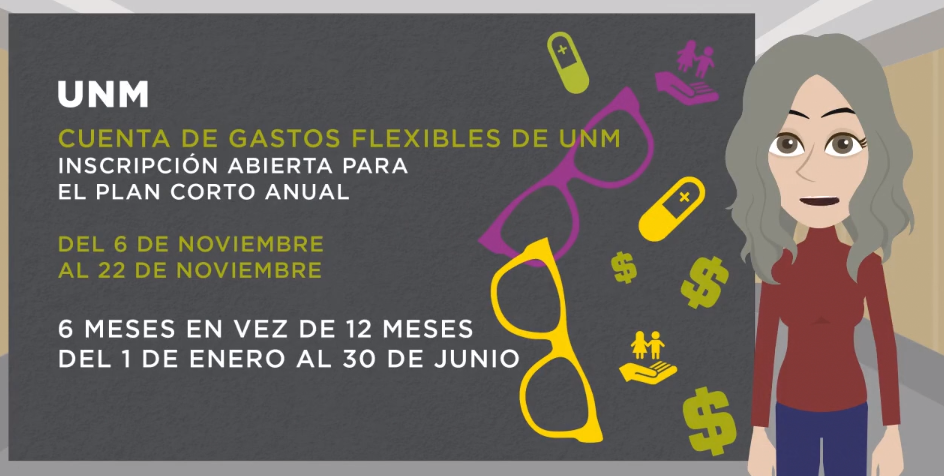 Español
Open Enrollment Instructions for Next Plan Year
Important: Changes to the FSA Plan Year to occur in 2020
The FSA Plan Year will change from a calendar year period (Jan. 1 – Dec. 31) to a fiscal year period in 2020 (July 1 – June 30).
The change will more conveniently align your FSA reimbursement period with UNM's health insurance Plan Year to help you better coordinate your health care needs.
To accomplish this change, the next FSA Open Enrollment period, occurring fall 2019, will be for a shortened Plan Year of Jan. 1 – June 30, 2020. We will then hold another FSA Open Enrollment in the spring of 2020 as part of the Annual Open Enrollment event to finally align FSA plans with the next fiscal year.
How to Prepare for Open Enrollment
Review the Plan documents and resources for the upcoming Open Enrollment periods in 2020, either one or both Plan Years – 2020 Shortened Plan Year and/or Fiscal Year 2021 at https://hr.unm.edu/benefits/fsa.
Review the Health Savings Accounts and Other Tax-Favored Health Plans publication by the IRS. This document contains important information about plan rules to include specific claims submission deadlines, IRS allowable eligible expenses and allowable dependent rules, and carry-over provisions.
How to Enroll During Open Enrollment
From Nov. 6 – 22, 2019 at 11:59 p.m. you may enroll or re-enroll in the FSA Shortened Plan Year by following these steps. Enrollment/Re-enrollment for Fiscal Year 2021, will occur in spring 2020.
Go to MyUNM and login with your NetID and Password
Click on LOBOWEB
Select Benefits and Deductions
Click FSA Open Enrollment and complete the enrollment after following the prompts for Duo Two-Factor Authentication.
For your records, Print or "Print to PDF" the confirmation statement as proof of your enrollment.