Staff Compensation Guidelines Review
The University of New Mexico is nearing completion of a comprehensive review of compensation practices and guidelines for staff positions throughout the University system. The review is designed to ensure that our practices are consistent, fair, competitive, and align with industry best practices.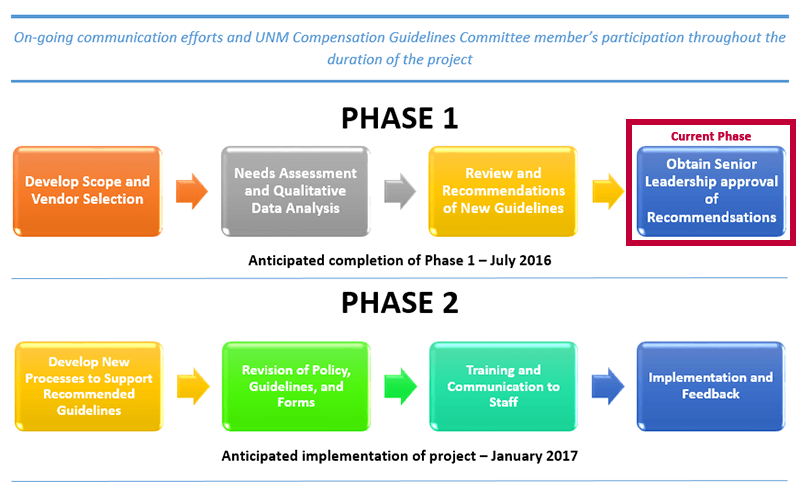 About
The project covers exempt and non-exempt staff positions at the main campus in Albuquerque, the Health Sciences Center, and branch campuses at Taos, Los Alamos, Valencia, and Gallup. The project does not cover faculty or bargaining unit employees.
Compensation guidelines and practices being reviewed include: the offer process for new hires, promotions and lateral moves, pay adjustments, career development, counter offers, and payments for achieving advanced degrees. This project does not include review of pay levels for individual roles or changing job classifications, and is intended to have a neutral effect on pay. According to Dorothy Anderson, Vice President of Human Resources, The overall goal of the project is to put in place guidelines that help the University attract, retain, and develop the staff we need in order to serve our faculty, students, patients, and our entire campus community.
The UNM Compensation Guidelines Review Committee was established in an effort to obtain valuable feedback throughout the study, and to ensure the unique compensation administration needs of the University's various businesses were considered. Representatives of the core committee group were appointed by senior leadership to represent the various entities along with representation from staff council. In close collaboration with Human Resources (HR), committee members were involved from the onset of the project to include establishing the scope of services, vendor selection, needs assessment, and re-design of the guidelines.
The project began with a series of interviews with UNM Executive Leadership and key stakeholders, led by Aon Hewitt, the University's consulting partners on the project. The interviews, along with a survey of HR Agents and liaisons, were used to assess current practices and were considered throughout the revision of the guidelines. A review of employee data was used for trend analysis and to gain a better understanding of actual pay practices used at the University.
In addition, an external survey of compensation practices at highly regarded universities, academic medical centers, and major New Mexico employers was used to provide insight for updating UNM's own practices.
After extensive research, thorough review, and thoughtful collaboration, Aon Hewitt is excited to present their findings and the recommendations from the UNM Compensation Guidelines Review Committee to Senior Leadership for their review and approval. Upon approval of the recommendations, the next steps of the Compensation Guidelines review process include policy review, development of procedures, training and implementation of the revised guidelines. Target implementation is set for January 1, 2017.
Updates on the project will be provided throughout the next several months.
---
Questions? Peruse our FAQs, or contact comp@unm.edu