In-Range Adjustments for Reevaluated Positions
The following guidelines are for non-bargaining unit staff. For bargaining unit staff, please refer to the respective collective bargaining agreement.
At times, it may be necessary for the University, or any unit of the University, to restructure its programs and services in response to changing demands or a loss in funding. The response to these changes may result in the elimination of one or more positions or in the reclassification of a higher level position to a lower level position. Subsequently, departments may find it more fiscally responsible to allocate key duties to other staff members and grant a small increase in compensation than to maintain and/or fill a full-time position.
Under these circumstances, the department can request an In-Range Salary Adjustment due to Reevaluation of a Position, when an employee's scope of responsibilities have substantially expanded. As outlined in UAP #3500: Wage and Salary Administration, Section 4.5.2, if the scope of responsibilities are of a lower level, the additional duties should be significant, generally a minimum of fifty-percent of time effort. This is defined as when a higher level employee assumes the most critical or key job responsibilities of the lower level position, as identified in the position description. The additional work must amount to a substantial part of the employee's work load. As a result, departments may not fill positions where duties are reassigned, and resulted in an in-range salary adjustment and a permanent change in the employee's responsibilities.
In-Range Adjustment Process
In order to proceed with this request, cost savings in excess of the in-range adjustment(s) must be committed to the appropriate EVP/President's area as determined by the respective EVP. The department can request an in-range salary adjustment for increased responsibilities by:
Completing the In-Range Salary Adjustment Form for increased responsibilities. A form must be completed for each employee that is affected, and the request must quantify the duties that will be transferred. If multiple employees will be taking on additional duties, complete the In-Range Salary Adjustment – Appendix form.
Obtaining Dean/VP and EVP/President's approval prior to submitting the request to the Division of Human Resources for review. If applicable, requests will result in final approval from the Hiring Review Process (HRP) committee.
Once final approval is obtained, HR Compensation will notify the appropriate budgetary office to sweep funds committed to the EVP.
The following outlines the approval process flow for In-Range Salary Adjustments due to Re-evaluated Positions: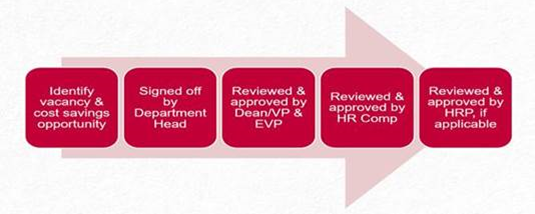 Please note: Review by Dean/VP & EVP is approval to proceed for review/approval of the requested action by HR Compensation. HR Compensation will submit approved requests to the appropriate budgetary area and/or HRP Committee, if applicable.
Important Notes
Departments may submit requests that occurred prior to the effective date of the new guidelines; however, employee compensation would be effective on a going-forward basis. There will not be any consideration for retroactive pay.
More than one individual may obtain added compensation for additional duties assigned.
Individual increases may vary on a case-by-case basis, according to such factors as the nature and extent of additional duties assumed, internal pay equity considerations, and budget considerations.
Duties that fall below the scope of the individual's position may be compensated if the added duties significantly impact the individual's position, generally at a minimum of fifty-percent of time effort. Duties that fall above the scope of an individual's position may warrant a reclassification upon evaluation.
If more than one employee is in the classification, the department must clearly identify why the individual(s) was/were selected.