EOD wants to ensure every employee has access to the specific knowledge or skills they need to stay safe, improve performance, and advance their career paths.
For EOD, the definition of training encompasses many platforms and ways of learning. Here are a few of the programs we offer:
Professional Development
Enroll in a self-paced course to better your communication skills. Attend a face-to-face leadership course. Whatever you're needs, EOD offers professional development courses specifically designed to increase your organizational and personal effectiveness as well as develop a better understanding of University policies and procedures through open enrollment and web-based offerings. View our online course catalog or complete the EOD Services Request Form to create a personalize plan.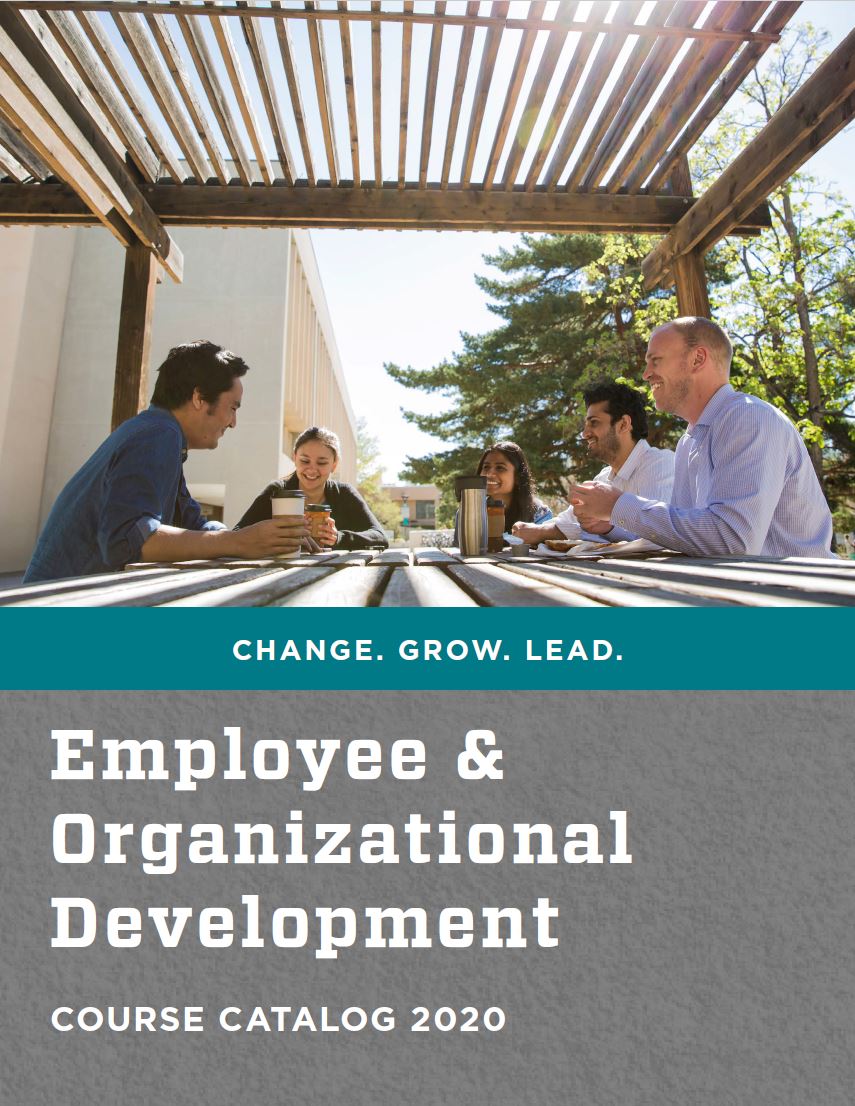 Register for any of our courses through Learning Central.
University-Wide Training
Through our Employee Knowledge Base, EOD administers a database of online, interactive tools and videos that give employees the resources they need. From Hiring Guides to the Interview Questions Library, you'll find all the tips and tricks to help you get the job done.
EOD also administers the broader campus-wide training and performance requirements including new employee orientation, annual employee mandatory training, and the performance evaluation process. These activities help build a safe, connected and engaged workforce.
Training Cancellation Policy
Once you enroll, we rely on your attendance. Significant planning and cost are associated with each program, and class size is often limited. Last minute cancellations or failing to attend without notice has costly consequences and impedes the learning experience for others. An empty seat can also be a missed opportunity for someone who was turned away from a full class. Please make every effort to get your supervisor's approval, clear your calendar and arrange for coverage.
To avoid a $25 administrative fee to your department, you must WITHDRAW from the course in Learning Central at least 48 hours prior to the start time. To do so:
In My Learning Assignments / My Learning Plan, locate the course you need to withdraw from
Click on the dropdown arrow to the right of the course title
Click the WITHDRAW button
Important Note: If you are unable to attend due to illness, please have your manager mail eod@unm.edu verifying that you are out of the office.
Course Locations and Parking
Course Locations
Most EOD instructor-led courses are held on location in our state-of-the-art training rooms, located in the John & June Perovich Business Center at 1700 Lomas Blvd., Suite 1200 (the SE corner of University & Lomas). Review your Learning Central email registration confirmation carefully to determine the exact location of your workshop, including the Business Center training room location.
Parking/Transportation
If you are registered for an Instructor-led EOD course, you have the following parking/transportation options:
ACCESSIBLE PARKING: ADA/Handicap parking spaces are available in front of the Business Center. A current and valid ADA license plate or ADA/Handicapped placard must be properly displayed in your vehicle.
PARKING PERMIT: We email a courtesy parking permit approximately two days prior the class date. To be valid, the courtesy pass MUST be used in conjunction with a general zone parking permit (A, B, C, GR, F, P, T, G, Q, L, M, W) issued by UNM Parking and Transportation.
Note: the time printed on the parking pass may NOT correspond with the actual time of the class. For example, your class might begin at 9 a.m., but the pass may say 8 a.m. to give you time to find parking, find the classroom, settle in, etc.
ROVER PERMIT: Vehicles with department Rover permits can park in the T-Lot (SW corner of Lomas and University).
SERVICE VEHICLES: Service/official vehicles can be parked on the south side of the Business Center.
SHUTTLE: The T Shuttle stop is just east of the Business Center in front of the nearby convenience store.
Visit the UNM Parking and Transportation Services website for additional information.