Staff performance evaluations are an important part of employment at The University of New Mexico. The process is not just about completing a form, it's about managers and employees making the most of an opportunity to engage in high quality discussions about performance, development, and goals.
Although performance evaluations are encouraged to be more than just a once-a-year process, Human Resources must ensure that staff performance evaluations are completed annually and at the end of a new employee's probationary period. See UAP 3230: Performance Review and Recognition.
The 2019 Performance Evaluation and Planning process begins on December 1, 2019, when self-evaluations are assigned in UNMJobs.  All evaluations are due by March 1, 2020.
Have a question?  Email us at PEP@unm.edu, we're here to help!
Having Problems? Attend a Performance Review Working Session from the following dates: Performance Review Working Sessions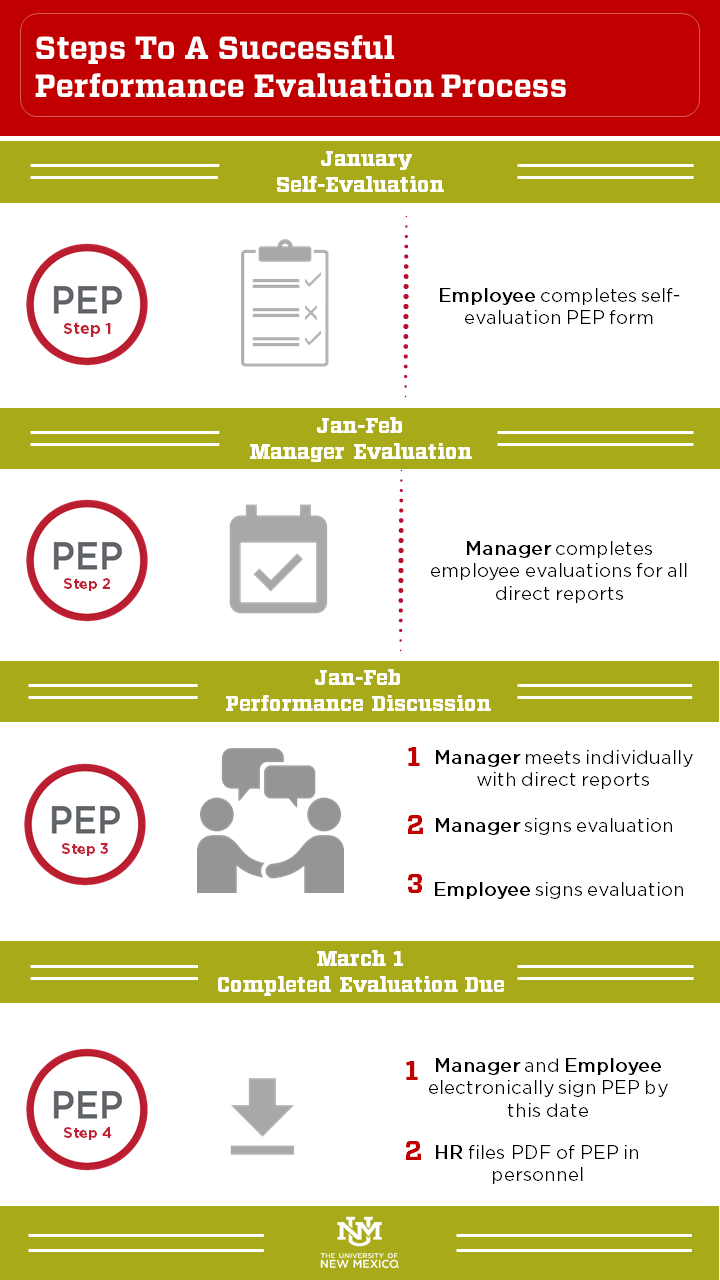 Importance of Performance Evaluations
They are one of the most important communication tools that can be used by an organization
They benefit the employee and the manager by allowing a check-in on overall progress of duties, goals and expectations
It is a time to provide feedback, recognize quality performance and set future expectations
Allows employees to be proactive and engaged by contributing to or fully developing their goals
They are a time to reflect on any training, development or progress that occurred
They can assist in avoiding problems in the future
It's a good time to commend and thank your employees for the great job they do
It can be used as a time to address poor performance to attain positive results and development. When done correctly, it can motivate an employee to resolve their issues and improve performance in the areas of concern.
Questions?
Contact Employee and Organizational Development with questions about the online system or process: 505-277-1555 or pep@unm.edu
Contact your HR Consultant if you would like guidance on conducting performance reviews.