Is that your stomach grumbling?
Vending machines are a convenient snack option – but how do you make a smart choice when you are really hungry? Employee Wellness is here to help you find snacks that are both satisfying and healthy!
Look for the Fit Pick™ Logo
The Fit Pick™ stickers in many machines on campus highlight better-for-you options. You can feel good knowing that these selections are lower in total fat, saturated fat, and sugar.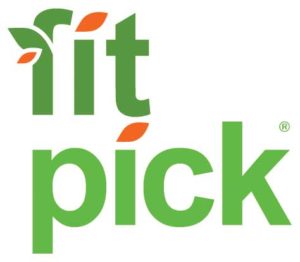 or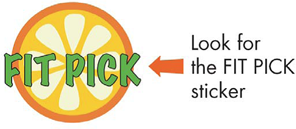 Dietitian Selected Options
Need a bit more guidance? We scoured campus vending machines and put together some options for common scenarios. Try these out the next time you find yourself staring down a vending machine.
Note that the items available in your nearest vending machine may vary. Nutritional information is subject to change. When this list was made, each of these items were found in campus vending machines. Be sure to adjust and/or substitute based on availability and your individual nutritional needs.
Emergency Lunch
Obviously, eating a meal out of a vending machine is less than ideal. But sometimes life gives you a challenge. For lunch, we targeted 300-500 calories, tried to add some fruit, and focused on nutrients to keep you fuller longer: fiber, protein, and healthy fats.
Jack Links Tender Bites Teriyaki Beef Steak + Kind Bar + Oven Baked Lays Potato Chips
420 calories, 8g fiber, 18g protein
This combo provides plenty of protein and fiber to keep you full and enough volume to feel like a real meal.
Nature Valley Protein (Peanut Butter & Dark Chocolate) + Nothing But the Fruit Concord Grape + Sun Chips Original?
420 calories, 9g fiber, 12g protein
These three items work together to provide a nice balance of fiber, protein, and energy and even includes actual fruit!
Afternoon Slump?
Those mid-afternoon meetings sure can be hard. Beat the energy slump by choosing options with both protein and complex carbohydrates.
Planter's peanuts
170 calories, 2g fiber, 7g protein
Planter's cashews
160 calories, 1g fiber, 5g protein
PowerBar Clean Whey Protein Bar
190 calories, 13g fiber, 20g protein
High in protein and fiber, but low in sugar.
Nature Valley Trail Mix Chewy Granola Bar Fruit & Nut
140 calories, 2g fiber, 3 g protein
Great natural energy boost from nuts and fruit.
Nature Valley Sweet & Salty Granola Bar, Almond
160 calories, 1g fiber, 3g protein
Almonds provide healthy fats, protein, and vitamin E.
Crunch Time
Are chips your thing? Crunchy foods are super satisfying. These chip options are lower in calories and total fat.
Sun Chips Original
140 calories, 6g fat, <1g saturated fat
Made with whole grains.
Oven Baked Lays
140 calories, 4g fat, <1g saturated fat
65% less fat than original Lays.
Oven Baked Cheetos
130 calories, 5g fat, 1g saturated fat
50% less fat than original Cheetos.
Chocolate Makes Everything Better
We get it – chocolate is important for making it through the day. Try these options to satisfy those mid-day cravings.
Nature Valley Trail Mix Granola Bar, Dark Chocolate Cherry
140 calories, 2g fiber, 2g protein
Nature Valley Protein Chewy Bar, Peanut Butter & Dark Chocolate
190 calories, 5g fiber, 10g protein
Hershey's Milk Chocolate with Almonds
210 calories, 2g fiber, 4g protein
Satisfy Your Sweet Tooth
A healthy lifestyle definitely includes fun treats in moderation. So, go ahead, pick out your favorite and enjoy. We won't judge.
Let Us Know What You Think!
Have an opinion on our suggestions? Did they help you get through your day? Or maybe you think we got it all wrong. Let us know at wellness@unm.edu.