Snack Smart for a Healthy U!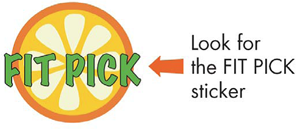 Employee Wellness is committed to helping you find healthy snack options. We have partnered with UNM Vending Services to bring the Fit Pick TM program to select vending machines on campus.
Look for the Fit Pick TM logo to find snack items that meet the 35-10-35 nutrition standards:
Less than 35% of calories from fat*
Less than 10% of calories from saturated fat
Less than 35% of total weight from sugar*
*nuts and seeds excluded
Fit PickTM items are available in the following vending machine locations on campus:
Bratton Hall (Law School)
Castetter Hall (1st Floor)
College of Nursing/College of Pharmacy Building (basement)
Communication and Journalism (2nd Floor)
Dane Smith Hall (3rd Floor)
Education Building (1st floor Copy Center)
John and June Perovich
Business Center (2nd Floor)
Johnson Gym (1st floor near weight room)
Mesa Vista Hall (2nd floor)
Mitchell Hall (1st floor)
Science & Mathematics Learning Center (1st Floor)
Student Health Center (basement lobby)
Do you have suggestions about vending machines on campus? Let us know what you think by sending an email to wellness@unm.edu. Your feedback can help shape the future of healthy vending on campus!