General Information
UNM's Benefits & Employee Wellness and HSC Wellness are hosting the 6th Annual Stadium Stair Challenge!
Want to achieve a new goal in 2023?
On Saturday, April 29, 2023, we challenge you to tackle the 1,668 stairs of University Stadium! Register for the event and you can feel the pride of giving it your all. This is a timed event – prizes will be awarded for various categories.
This is a family friendly event!
Participants 13 and under are eligible to participate in the Kids K fun run around the football field! Finisher's medals will be awarded.
Proceeds will benefit AGORA Crisis Center. Agora provides compassionate free confidential help to anyone in need of emotional support. Services include talk-line, walk-in clinic, online emotional support chat, volunteer opportunities and community education. As one of the oldest crisis centers nationwide, Agora hosts the NM Youth Suicide Prevention crisis line and is part of the National Suicide Prevention Lifeline Network as well as www.CrisisChat.org. Visit www.AgoraCares.org.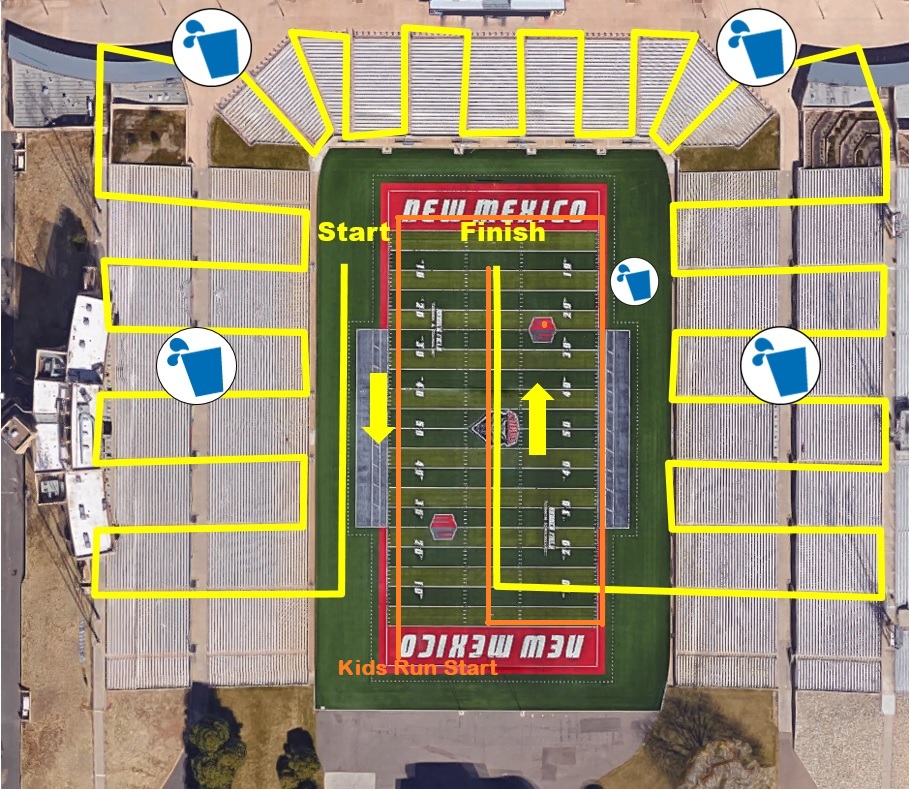 Train for the Challenge
Sign up for the Benefits & Employee Wellness six-week course to help you reach your personal fitness potential. Classes will be held in March and April.
Cost: $160

Includes trainings on Tuesdays and Thursdays for sox-weeks and a complimentary entry to compete in the Stadium Stair Challenge. Tuesday trainings will be at the stadium and Thursday trainings will be virtual.
If you register for the six-week course and the challenge, the fee is tuition remission eligible.

If you only sign up for the Stadium Stair Challenge, the cost is NOT tuition remission eligible. Sign up early to receive the maximum discount!

$35 until January 31
$45 February 1 through April 28
$55 Day of Event

The training classes will be led by Benefits & Employee Wellness Health Education Consultant, Leah Adent, NASM-CPT. Leah will teach you how to properly climb the stairs, offer tips on preventing injury, and provide a program for you to follow throughout each week to push you to peak performance on race day!
Sports nutrition tips will be shared to help you focus on nutrient timing, food choices, and hydration so you can get the most out of your training.
Training Class Schedules

In-Person Training will be held at UNM University Stadium at 12:15 pm
March 21, 28
April 4, 11, 18, 25
Virtual Training on Zoom 12 - 12:30 pm (Zoom link will be provided once you register)
March 23, 30
April 6, 13, 20, 27
Bonus Training
Every Friday, participants in the six-week course will receive an online recorded video to supplement their training for the stair challenge. Videos will cover foam rolling, core, strengthening the knee, and more!
Registration Fee
Registration will remain open on the day of the event. Register before April 7 to get a race t-shirt in your preferred size.
Six-Week Training Course + Stadium Stair Challenge

Includes 12 training classes, bonus training videos, and Challenge eantry
$160
Tuition Remission Eligible
Stadium Stair Challenge ONLY
$35 – Until January 31
$45 – Until April 28
$55 – Day of Event (until 8:30 am)

NOT Tuition Remission Eligible
Kids Race

Includes participation medal
$10 - Until April 28
$20 - Day of Event (until 8 am)

NOT Tuition Remission Eligible
Register Here
Cancellation Policy
All entry fees are non-refundable and non-transferable. You may not give or sell your number to another individual.
Packet Pickup
Each packet includes your BIB Number, timing tag, t-shirt, and more! You need to present a valid photo ID to pick up your packet. If you are not able to pick up your packet in person, you may have someone pick it up for you. Please give them your valid photo ID to present during packet pick up.
Thursday, April 27, 2023
4pm - 6pm
Heart & Sole Sports
2817 San Mateo Blvd NE
Albuquerque, NM 87110
Saturday, April 29, 2023
7am - 8am
Pick up your packet on the day of the race at the registration table inside University Stadium
Prize Categories
Best Male and Female Overall
Best Male and Female by Age Group

| | |
| --- | --- |
| 18-29 | 30-39 |
| 40-49 | 50-59 |
| 60-69 | 70+ |
Results & Photos
2023
2022
2019
2018
2017
2016