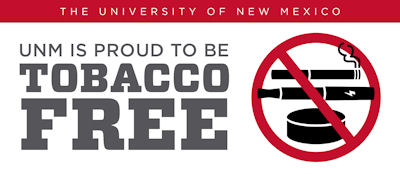 The University of New Mexico is committed to wellness and providing a healthy environment in which to learn, work, and visit. We are a tobacco and smoke-free environment. For details on UNM's policy regarding tobacco use, please see the Tobacco-Free Campus Policy (Policy 2250) in the University Administrative Policies and Procedures Manual.
Quitting tobacco is a complex process and sometimes it takes several quit attempts to get it right. The resources below will help you get on the path to quitting.

American Cancer Society
To have the best chance of quitting and staying quit, you need to know what you're up against, what your options are, and where to go for help. The American Cancer Society offers resources and information to help you stop smoking. Visit the Stay Away from Tobacco Guide to Quitting via the American Cancer Society for more assistance.
Quit Now NM
A FREE program offered in English and Spanish that will help you create an easy to follow Quitting Plan, show you how to get ready, take action, and then live the rest of your life as a non-smoker. For more information visit QUITNOW.NET
Para recursos en Español, llama 1-866-784-8454 y oprima 2.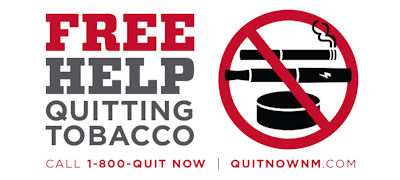 American Lung Association
It's Time to Leave Tobacco Behind
Although the first steps can be hard, finding your path to a smoke-free life is easier with the right help. The American Lung Association's Freedom From Smoking program is a proven way to quit smoking—and stay quit—even if you've tried before and went back to smoking.
Tobacco Quit Line - Presbyterian
Presbyterian participants are eligible for free, confidential, and convenient support through the Tobacco Quit Line. Participants can also enroll to receive up to five free coaching sessions with a trained Quit Coach and, if eligible, could receive up to eight weeks of free nicotine replacement therapy products. Call the Tobacco Quit Line for Presbyterian participants at 1-888-840-5445.
Additional Quit Smoking Resources and Tools:
Find more smoke-free resources and tools to help someone quit smoking: